Theo tạp chí du lịch hàng đầu Châu Á, TTG Asia, du thuyền di sản Heritage Cruises là một trong năm trải nghiệm sang trọng nhất tại Việt Nam xếp cùng với bay trực thăng xuống Hạ Long, nghỉ dưỡng tại khu nghỉ mát hàng đầu thế giới Amanoi Ninh Thuận, du ngoạn du thuyền trên sông Sài Gòn, một sản phẩm của khách sạn 6 sao Reverie hay ngắm hoàng hôn trên tầu hai thân Catamaran trên đảo ngọc Phú Quốc.

Tập đoàn Lux Group mang đến trải nghiệm trên sông và trên biển những trải nghiệm chân thực và độc đáo cho 40 lữ khách. Tiện nghi bao gồm 2 nhà hàng, spa, phòng thư giãn trong nhà và ngoài trời, bể bơi bốn mùa, quán bar và 20 phòng rộng đều là phòng suites. Xuất phát từ Hải Phòng, du thuyền đưa du khách khám phá quần đảo Cát Bà trong vùng lõm của Vịnh Bắc Bộ.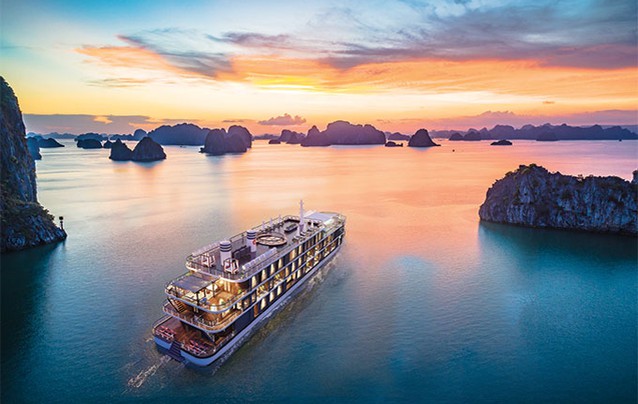 Rooted in the local fabric
Inspired by the heritage of local boats and the spirit of Bach Thai Buoi, a businessman who transformed transport on the waterways of Vietnam in the early 20th century, this Heritage Cruises masterpiece is designed to reflect the style of 1930s Indochina and to be a haven for the most sophisticated of travelers to enjoy Vietnamese culture and gourmet cuisine.
"Our company does not build castles on hills or only build cruise ships for sailing on rivers and oceans like others," said Peter Weerabahu, COO of Heritage Cruises. "We are inspired by the past and rooted in history and local culture. Our architecture and building practices follow indigenous designs and utilize local architects and artisans. Our food comes from local farmers and fishing families. Our knowledge of the best fishing spots, diving locations, quiet lagoons, uncrowded beauty spots, and quiet places to anchor with the best sunsets and sunrises is founded on our local relationships."
Heritage Cruises is a traditional ship built using high-quality materials and finished with exquisite gold-plated motifs, fine silk, and velvet and other premium accoutrements such as brass, crystal, and gemstones.
Works of art commissioned from well-known Vietnamese artists adorn the walls, and everything is designed in accordance with the specific requirements and preferences of the individual traveler in mind. Room and reception services are available around the clock.
"I personally love this cruise because it evokes a time when a voyage to the Far East was a privilege solely for the most sophisticated and elite of society," said David Plaschy, Experience Manager aboard Heritage Cruises. "Each guest is treated like nobility and can experience the finest things in life, in private, and with every tiny detail attended to. You spend your time spotting local wildlife, snorkeling, boating, kayaking, embracing Mother Nature, and passing time with your fellow passengers and crew. Cruising is all about places, experiences and memories. We ensure that your cultural heritage cruise is unique and authentic."
Heritage Cruises has crafted a culinary treat for the most discerning of palates at both the Tonkin and L'Indochine restaurants, and promises that every dining experience will exceed expectations. The cuisine is always freshly prepared using the best local ingredients and with an emphasis on seafood.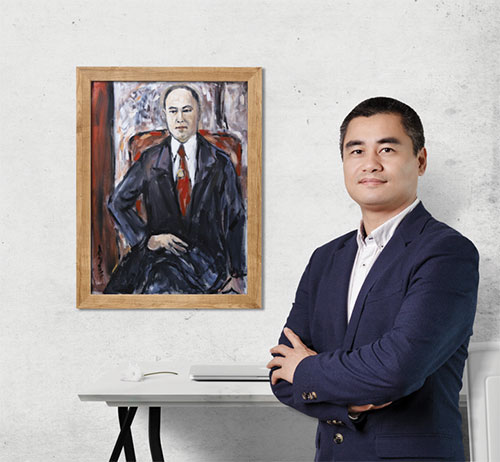 MR. PHAM HA, CEO and Founder of Heritage Cruises
Each overnight trip includes breakfast, lunch, and dinner, and with every meal on board you are treated to a rich selection of complimentary local beers, spirits, and distinctive wines chosen by acclaimed sommeliers.
"All 20 cabins have ensuites and private balconies, panoramic views, and personal service," said David. "The Heritage Cruises fleet is designed to be a sanctuary that ensures each and every moment counts for our guests, whether they are on the Red River or in the Gulf of Tonkin and Ha Long Bay - a must-see destination on the itineraries of all travelers to Vietnam. Heritage Cruises has a warm atmosphere, featuring artistic architecture and wooden interior design. I like this whole bespoke and heritage-inspired boat with its l'Art de l'Annam art gallery and the stylish wooden stairs at its heart. That's why I love working here, talking to our guests and showing them the very best that Vietnam has to offer in this sublime natural wonder."
The ship has 20 suites, including four Heritage Suites, ten Ocean Suites, and six Delta Suites. The two King and Queen suites are the largest, at 46 sq m, but all suites blend heritage design with the elegance of 1930s Indochina.
"The suites come with personalized service and contain a bathroom with a Jacuzzi and a walk-in shower for guests to enjoy the bay from every corner in total privacy," David added. "Guests will be reluctant to leave their suites. It is an exclusive sanctuary for travelers with 'savoir vivre' who wish to enjoy Vietnamese arts, culture, history, architecture, music and gourmet cuisine. It is definitely a once-in-a-lifetime experience."
"The whole boat is designed for maximum comfort and enjoyment," he went on. "Guests have a double bed, privacy, and an element of intrigue throughout their stay. With pick-up and drop-off from Hanoi or Hai Phong, in-suite dining or in the wine cellar, movies under the stars or at the pool bar, and a private minibar, we believe we have created something with that 'Wow' factor that can't be found anywhere else."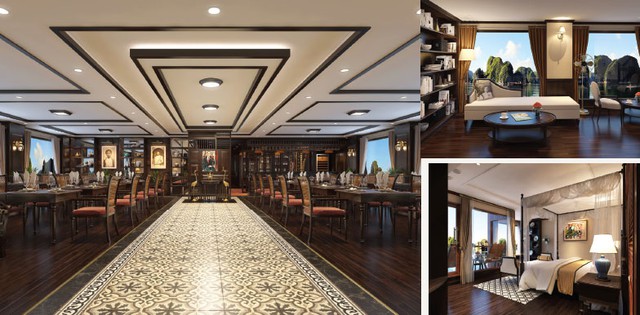 Moreover, the cruise offers outstanding facilities and services. There is a swimming pool, a pool bar, outdoor and indoor lounges and bars, and spa and sauna services. Heritage Cruises is a combination of the best of French "Art de Vivre" fused with a distinctive French glamor and local flavor. Here Vietnam is moving forward but has kept the best from the colonial period in terms of culture, lifestyle, cuisine, architecture, and arts.
Some of the original paintings on board are from one of the most famous Vietnamese artists, Pham Luc, who has been referred to as the "Picasso of Vietnam". Guests can appreciate the curated paintings and antique collection displayed on the walls, handpicked by the cruise owner.
That's just the physical part of the Heritage Cruise. Another highlight attracting high-end travelers is its hosting of many artistic and culinary events, such as art exhibitions, famous local singers, live TV shows, fashion shows from leading local designers, and international music from local and foreign artists.
The cruise also boasts a relaxing lounge, an art-café, and Le Tonkin and L'Indochine restaurants offering guests a tantalizing choice of Western and Asian cuisine for breakfast, lunch, tea, dinner, and midnight snacks. Vietnam's fashionable crowd love the sophisticated art-café, which evokes French elegance and old-world glamor.
The partially shaded, spacious lounge, Song Hong, on the Panorama Deck, is welcoming, with wooden floors, intimate atmosphere, and classy features. There is an extensive selection of wines, beers, cocktails, liquors, and spirits available to enjoy in this laidback environment while being entertained by a talented local violinist, guitarist or pianist in the evening.
"Travel is all about places, experiences and memories," David said. "We create places that reconnect people in the natural theater of the Red River and the Gulf of Tonkin. Connections can be fleeting and easily forgotten. To sustain them we strive to create memories and to be lasting they must be unique - not just a perfect martini but a perfect moment. The most powerful memories are built from a shared moment of discovery or a shared moment of change."